by John Lars Zwerenz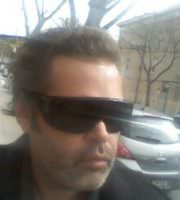 Walking through splendid meadows I shall dream,
Wearing a sailor's coat, of soft, raven wool.
I shall bathe in summer breezes, scented and cool,
Sprayed by the happy froth of a stream.
I shall meditate on only love,
And make my way to a church by the sea,
To kneel by a shrine, dedicated to Her Majesty,
Beneath the radiant, azure sky above.
And when the nascent eve arrives, docile with grace,
With the silent pace of a shoe of a vagabond,
My dream shall ferry to the grand beyond,
Above the realm of time and space.
From:
A LADY FAIR AND OTHER POEMS BY JOHN LARS ZWERENZ
Last updated June 20, 2016