by Arthur Rimbaud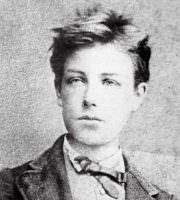 Boulevard du Régent
July Flowerbeds of amaranths right up to
The pleasant palace of Jupiter. -
I know it is Thou, who is this place,
Minglest thine almost Saharan Blue !
Then, since rose and fir-tree of the sun
And tropical creeper have their play enclosed here,
The little widow's cage !...
What, Flocks of birds, o iaio, iaio !... -
Calm houses, old passions !
Summerhouse of the Lady who ran mad for love.
After the buttocks of the rosebushes,
the balcony Of Juliet, shadowy and very low. -
La Juliette, that reminds me of l'Henriette,
A charming railway station,
At the heart of a mountain, as if the bottom of an orchard
Where a thousand blue devils dance in the air !
Green bench where in stormy paradise,
The white Irish girl sings to the guitar.
Then, from the Guianian dining-room,
Chatter of children and of cages.
The duke's window which makes me think
Of the poison of snails and of boxwood
Sleeping down here in the sun.
And then, It is too beautiful ! too ! Let us maintain our silence. -
Boulevard without movement or business,
Dumb, every drama and every comedy,
Unending concentration of scenes,
I know you and I admire you in silence.
*** Is she an Almeh ?...
in the first blue hours
Will she destroy herself like flowers of fire...
In front of the splendid sweep where one may smell
The enormous flowering city's breath !
It's too beautiful ! It's too beautiful ! but it is necessary -
For the Fisherwoman*
and the Corsair's song,
And also because the last masqueraders still believed
In nocturnal festivities on the pure sea !
Last updated July 04, 2015