by Elizabeth Gilbert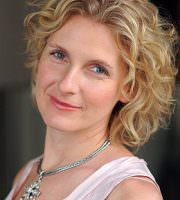 I
All this talk of nectar and bliss
is starting to piss me off
I don't know about you, my friend,
but my path to God ain't no sweet waft of incense.
It's a cat set loose in a pigeon pen
and I'm the cat - but also them who yell like hell when they get pinned.
My path to God is a worker's uprising
won't be peace till they unionize
Their picket is so fearsome
the National Guard wont' go near them.
My path was beaten unconscious before me
by a small brown man I never got to see,
who chased God through India,
shin-deep in mud, barefoot and famined, malarial blood,
sleeping in doorways, under bridges - a hobo.
(which is short for "homeward bound," you know)
And he now chases me, saying, "Got it yet, Liz?"
What Homeward means? What BOUND really is?
II
However,
If they'd let me wear pants made out of the fresh-mown grass from this place,
I'd do it.
If they'd let me make out
with every single Eucalyptus tree in Ganesh's Grove,
I swear, I'd do it.
I've sweated out dew these days,
worked out the dregs,
rubbed my chin on tree bark,
mistaking it for my master's leg.
I can't get far enough in.
If they'd let me eat the soil of this place
sewed on a bed of bird's nests
I'd finish only half my plate,
Then sleep all night on the rest.
Copyright ©:
Elizabeth Gilbert
Last updated July 12, 2015
These two poems are extracted from Eat, Pray, Love and from an Ashram in India.