by Cotton Mather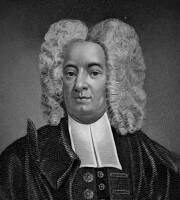 1. I lift my eyes up to the hills
2. He will not let thy foot be moved
From whence should come my help. My help's from
Thy keeper slumbers not. Lo, he that
the eternal God Who made the heavens and earth.
keepeth Israel He slumbers not nor sleeps.
3. Th'eternal God is he who is
Thy watchful keeper still;
Th'eternal God becomes thy shade
At thy right hand he stands.
4. The sun shall not smite thee by day;
Nor shall the moon by night.
Th' Eternal keeps thee from all ill
He shall preserve thy soul.
5. Th'Eternal keeps thy going out
And keeps thy coming in.
He does it from this time, and will
Do it forever more.
Last updated April 01, 2023