by Cotton Mather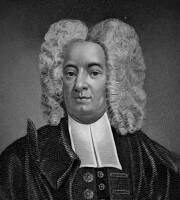 Tis not the Till'd, Poor, Lifeless Earth
Which gives me all my Store.
No: Tis my GOD! From Him comes forth
All that has fill'd my Floor.
For what I've gather'd from the Field
Thee , Oh! my GOD I bless.
But, Oh! that I Fruits too may yield
To Him who me does dress !
My Soul , with Gladness fill'd, and Food;
Returns, what shall be made?
In this Abundance serve thy GOD,
In HIM for ever glad .
Now in Obedience all my Days
Hard at my Work I'll keep;
Him I'l take pains to please and praise;
Assur'd That I shall Reap .
Yea, If I must thro' Sorrows go,
And Weeping Eyes employ;
I'm sure, That they in Tears who Sow
At length shall Reap with Joy .
But, Oh, What shall I Reap anon!
What Eyes did ever see,
Or to what Man on Earth is known,
What will the Harvest be!
My JESUS, My Rewarder Thou
Wilt be; and more than so:
Thou my Reward wilt be. And now
No Higher can I go.
Last updated April 01, 2023