by Elizabeth Bentley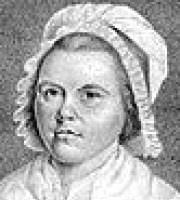 MILD Evening shades abroad invite,
The sun pours soft his rays;
On every side th' enraptur'd sight
A gladdening scene surveys.
Lo! Plenty's horn profusely drops
Abundance o'er the field;
Beneath the sickle, bending crops
Their golden honours yield.
With nervous arm the reaper swain
Here binds his full-fraught sheaves;
There, nimbly on the creaking wain,
The welcome burthen heaves.
The master hails, with shouts of joy,
His grain in safety stor'd;
No farther cares his mind annoy,
He seeks the festive board.
For soon the fast declining sun
Will shed his farewell ray,
And blinking twilight, dusk and dun,
Usurp the place of day.
But see, with ample orb, the moon
Now beams serene and clear,
Diffusive of a milder noon,
The rustics' toils to cheer.
Hark! how the merry gleaners sing,
Quick pacing on the road,
As to the cottage home they bring
Their daily well-earn'd load.
'Tis thou, great Author of all good,
Whose pow'r these gifts imparts;
Thy bounteous hand supplies our food,
With gladness fills our hearts.
And shall our souls forget to bow
To thee with fervent praise;
Before thy throne perform the vow,
And grateful anthems raise?
Last updated January 14, 2019