by Elizabeth Bentley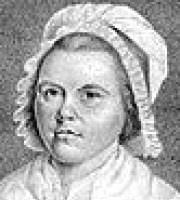 HARK! the glad horn's sonorous strain,
Responsive to the shouting swain,
Proclaims the harvest o'er;
The master of the field stands by,
And views with pleasure in his eye,
His safe conducted store.
The gleaner with her children round,
From scatter'd spikes has clear'd the ground;
Beneath the moon's broad ray
She home conveys the little hoard,
That shall supply her humble board,
In Winter's scanty day.
The God of goodness prompt to bless
His suppliant's labours with success,
Vouchsafed his powerful aid;
The peasant plough'd in hope the soil,
The plougher's and the sower's toil
Abundance has o'erpaid.
No torrents of untimely rain
Have drench'd the yet unripen'd grain,
To mock the reaper's care;
But sun-beams which prolific glow'd,
Their warmest influence have bestow'd,
Accordant to our prayer:
Nor Mildew, with her tainting breath,
Has doom'd the embryo sheaves to death,
By genial rays matur'd;
But Plenty, with propitious smile,
Has shed her treasures o'er our Isle,
In garners now secur'd.
But where are they who reap'd with joy?
Do hymns of praise their tongues employ?
Alas! far different sounds;
The jest profane, th' indecent song,
Pour'd from a wild, intemp'rate throng,
The ear abhorrent wounds.
Is this in Britain's Christian land,
T' acknowledge Heav'n's all-bounteous hand?
This to revere his laws?
O Man! be grateful to thy God,
Lest he in wrath sends forth a rod,
And Plenty's gifts withdraws.
Last updated January 14, 2019