by Elizabeth Bentley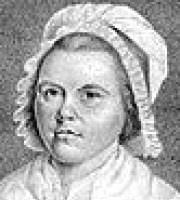 LORD of the year! whose word commands
The seasons o'er what favour'd lands
To shed profuse their stores;
Or where to turn the earth to steel,
Till rebel man compell'd to feel,
Thy awful pow'r adores.
Intent he ploughs the stubborn soil,
Exerts his utmost skill and toil,
Resigns his hopes to earth;
But here the powers of art must cease,
'Tis Thine to call with vast increase
The future crop to birth.
But if provok'd thine anger frown,
Sudden the wat'ry torrents drown
The once prolific plain;
Wan famine stalks with glare of death,
With tainting mildew in her breath,
She blasts the full-ear'd grain.
Thy suppliants to thy throne repair,
Wilt Thou, propitious to our pray'r,
In mercy give command?
Lo! Plenty shakes the o'er-flowing horn,
And bending fields of ripen'd corn
Demand the reaper's hand.
To Thee our hearts the hymn shall raise,
O may our deeds proclaim thy praise,
So mercy still shall smile;
Shall beam in renovating spring,
Shall bid new autumns harvest bring,
To bless our grateful isle.
Last updated January 14, 2019