by Elizabeth Bentley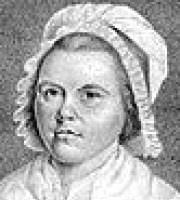 O POWER Supreme! whose awful word
Again commands th' avenging sword
O'er guilty man to glare;
Lord! while thy judgments yet impend,
Before thy throne we contrite bend,
And pour the suppliant pray'r.
Thy mercy's richest streams have flow'd,
(As erst on Israel's race bestow'd)
To bless thy chosen land;
And when abroad thy shafts were hurl'd,
And Discord shook the jarring world,
Oft sent by thy command;
The guardian angel of our coast,
Has victory o'er th' embattled host,
To Britain's arms decreed;
Safe in our home we heard from far,
The voice of thunder-speaking War,
That bade the nations bleed.
Now burns with rage th' insulting foe,
To crush at one o'erwhelming blow
Our life, our name in dust;
For while we stand, in vain he dreams,
To crown Ambition's boundless schemes,
For Britain dares be just.
His legions, nursed in scenes of blood,
Sweep, like the desolating flood,
Men, cities, realms, away;
Where'er his savage footsteps tread,
Death, horror, and heart-chilling dread,
Proclaim his impious sway.
Insatiate with unjust command,
He'd grasp the world with iron hand,
While trembling at his nod,
His slaves with abject flattery greet,
And basely crouching at his feet,
Adore him as their God.
Thus madly fierce, in giant pride,
Goliah once thy power defied,
And felt thy vengeful stroke;
A simple shepherd dealt the blow,
That laid the Atheist monster low,
Who dared thy wrath provoke.
Round Britain's shores a loyal band,
The bulwark of their parent land,
Her patriot sons arise;
Yet not alone on spear or sword,
But on thy mighty arm, O Lord,
Our hope, our trust relies.
'Tis thine, when clashing hosts engage,
To guide the battle's hottest rage,
And Conquest's palm bestow;
To bid our foes retire with shame,
While hymns of praise to thy dread name,
'Mid Victory's shouts shall flow.
Last updated January 14, 2019