by Elizabeth Bentley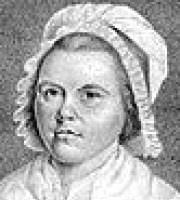 QUEEN of the blest Angelic Choir!
Bright native of the spheres!
Whose pow'rs all Nature's works inspire,
Whose notes, entranc'd, she hears,
'Tis thou direct'st yon orbs of light;
When thou, majestic, rear'd'st thy head,
Aw'd by thy voice grim Chaos fled
To realms of endless night.
Sweet Poesy without thy aid,
Had ne'er to fame aspir'd,
Nor e'er her graceful charms display'd,
But in thy robes attir'd;
At thy command soft numbers flow,
Thou bounds ordain'st to ev'ry line,
Bid'st Energy and Ease combine,
And giv'st th' emphatic glow.
Where thou, immortal Nymph, art found,
Thy sister Peace abides,
The beauteous Graces sport around,
And spotless Joy presides;
Each prospect charms when thou art near;
Where'er thou smil'st on social life,
Thy hideous foe, tormenting Strife,
Shall swiftly disappear.
But when thou sit'st in solemn state,
Above thy tuneful train;
Who chaunt, with ecstacy elate,
The soul-enliv'ning strain,
What sounds th' enraptur'd ear salute!
Thy breath each instrument awakes,
The glowing Passions captive takes,
And strikes harsh Discord mute,
Descending 'mid thy heav'nly throng,
With mortals haste to dwell;
O grant them oft th' enchanting song
From thy melodious shell!
Mellifluent accents oft convey;
O! deign to rule the human mind,
Whose ev'ry thought, by thee refin'd,
Shall Virtue's laws obey.
Last updated January 14, 2019