by Elizabeth Bentley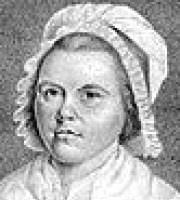 O THOU! who dwell'st in heav'n alone,
Whose beams surround th' Omniscient's throne,
'Tis by his just decrees denied,
That thou with mortals should'st reside,
On earth a constant guest;
Yet wilt thou ne'er thy transient visits pay?
Yes, oft thou dart'st thy cheering ray
To glad the guiltless breast:
Oft art thou found where meek Content abides,
And blooming Temp'rance o'er the feast presides.
When glowing Fancy's votaries view
The rising morn's expanding beams,
The leaves o'erspread with chrystal dew,
E'er yet the earliest sunshine gleams;
The feather'd choir on ev'ry spray,
Awake to hail th' approaching day;
The blushing flow'rets lift their heads,
And Nature's hand the field o'erspreads
With thousand beauteous dies;
Then, Happiness, (if e'er thou'rt seen)
A glimpse of thy celestial mien
Salutes their ravish'd eyes.
Or when the mind in transport reads
Sweet Poesy's enchanting page,
Who fires the soul in every age,
With ardent love to Virtue's noblest deeds;
Or when her sister Music's lays
The heart to heav'nly raptures raise,
Above her mortal state;
Such wonders of whose ancient reign
Well might the sons of fiction feign,
Such magic tales relate.
Or when the pencil's pow'rs the thoughts employ,
With all the varied scenes of Art,
Whose imitative charms impart
A momentary joy.
Or when we seek the sylvan grove,
Where social Converse loves to rove,
Firm Friendship, with endearing mien,
And Wit, good humoured, bright and keen,
Guided by Truth and Sense sublime;
Where base Detraction ne'er intrudes,
Who with malignant pleasure broods
O'er every fancied crime.
Here oft thy radiant aspect gleams,
Yet not on man's frail race below
May'st thou unmix'd thy gifts bestow,
But earth-born Care thy step attends;
He frowning shades thy brightest beams,
And with thy sweetest draught his poison blends.
But, most fair form, thy downy wings
Shall o'er the raptur'd soul expand,
When glowing with that fervent zeal
Which true Devotion bids her feel,
Responsive to th' Angelic band,
Her Maker's praise she sings.
Each wayward passion charm'd to rest,
E'en here of those delights possest
That crown thy native clime;
The joys that now in Virtue's bosom rise,
Shall reign mature beyond the skies,
Nor dread the hand of Time.
Last updated January 14, 2019