by Elizabeth Bentley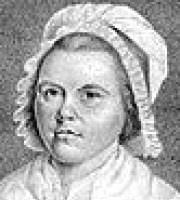 AND THE DEATH OF LORD NELSON.
HIGH on a rock, whose craggy brow
O'erlooks the subject main below,
Her throne Britannia rears;
And lo! from yonder favouring skies,
Her guardian Genius as he flies,
For her the wreath prepares:
But while his hand the laurel twines,
A sprig of mournful yew combines,
Yet moist with generous tears.
Eager she darts her piercing glance,
Where high in air yon pendants dance,
Her cannons' thunders roar;
She sees contending navies clash,
While rival fires' incessant flash
Appals the trembling shore;
She views the flood a crimson'd tide,
Till shouts of victory echoing wide,
Proclaim the conflict o'er.
But where (her anxious looks enquire)
Oh! where's the Chief, whose soul of fire
Th' immortal palm has won?
And while her hymns of praise ascend,
Her arms with glowing joy extend,
To clasp her conquering son;
Alas! a mournful voice returns,
No more his patriot bosom burns,
His race of glory's run!
To him (thro' Heav'n) his country owes,
Salvation from her vaunting foes,
They meet a briny grave;
'Tis Nelson, whose exalted mind,
With virtue's purest flame refin'd,
Still foremost of the brave,
Who in her cause so oft has bled,
His last, his vital drop has shed,
That country still to save.
This was his latest, noblest deed,
But what reward, what deathless meed
Shall grateful Albion pay?
He saw Iberia, Gallia bow,
No brighter crown could grace his brow,
Beneath empyreal day;
Yet every trophy fame can give,
Shall bid the Hero's honours live
Thro' time's remotest sway.
My gallant band! Britannia cries,
While high your ardent hopes arise,
Your dear-lov'd Isle to view,
When wreath'd with glory you return,
Oh! hang your laurels o'er his urn,
Embalm'd with pity's dew.
And when to future heirs you tell
'Mid victory's shouts your Leader fell,
Your manly griefs renew!
Nor, Gallia dream thy myriad host
Shall e'er pollute my sacred coast,
Tho' e'en a NELSON falls;
See, countless youth, their country's pride,
Who've fought, who've conquer'd by his side,
Still crowd my oak-built walls;
These shall resistless weapons wield,
Shall bid the fierce Usurper yield,
Whose rod thy land enthrals.
And ye, my sons, when battle's rage,
And swords with hostile swords engage,
And deal the death-fraught aim,
In thought behold your Nelson's shade,
Still hov'ring o'er your cause to aid,
And guide your arm to fame;
And while like him prepared to bleed,
Let each humane, each virtuous deed,
Like his adorn your name.
So shall the Pow'r enthron'd on high,
Viewing our land with mercy's eye,
A tyrant's hate restrain;
And while our sails each port shall press,
And teach remotest climes to bless
Our Monarch's mild domain;
Bid War's remorseless fury cease,
And Commerce, Arts, and lasting Peace,
O'er earth united reign.
Last updated January 14, 2019