by Elizabeth Bentley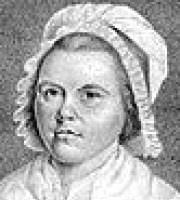 SWEET spot! with magic scenery graced,
The abode of elegance and taste,
Where Nature's charms, improv'd by art,
Pour delight o'er every heart:
Here may rapt Poesy retire,
To fan the spark of heav'nly fire;
With one extatic glance behold
What legendary Bards have told,
Of beauteous scenes in Fairy land,
Rais'd by Fancy's potent wand;
Whate'er of Fiction's flowery tale,
Descriptive of the happy vale,
In no ideal visions rise,
The living landscape strikes her eyes.
In peace may Contemplation stray
Along the devious upland way,
Survey the lucid stream below,
Where reflected sun-beams glow;
Or onward dart her eager sight,
To taste the undisturb'd delight
The richly-tinted prospect yields,
Where meads, groves, gardens, woods, and fields,
Nature in graceful order blends,
Far as human ken extends;
While many a simple spire between,
Denotes a hamlet tho' unseen.
Charm'd with the ever-varying view,
The Muse attempts the tribute due
To Her who plann'd this loved retreat,
And calls her own the favourite seat;
Whose tasteful elegance of mind,
Within no selfish bounds confin'd;
Feels the pleasure she imparts,
The noblest pride of generous hearts.
Last updated January 14, 2019