by Elizabeth Bentley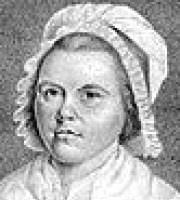 ON Meditation's wings up-borne,
All meaner themes above,
The soul should hail this sacred morn,
With gratitude and love.
Thou busy phantom, worldly Care,
Avaunt with footstep rude,
Unhallow'd guest, the thoughts to share
Ah! why wilt thou intrude?
Be Pleasure's giddy tribe away,
Nor dissipate the mind,
Far nobler pleasures claim this day,
Of pure exalted kind.
This day the great Creator calls
His creatures to rejoice,
To bow within his sacred walls
With Adoration's voice:
The incense of the heart to raise,
For ev'ry blessing giv'n,
By mingling acts of prayer and praise,
Prepare the soul for heav'n.
Last updated January 14, 2019