by Elizabeth Bentley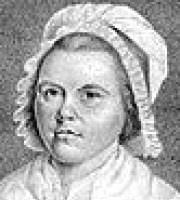 THE storms seem fled, the Sun's warm beam
Darts chearful o'er the sparkling stream,
And melts in tears the gelid snow,
Stern Winter smooths his furrow'd brow;
The insects, floating 'neath the ray,
In mazy rounds their gambols play;
The flow'rs uprear the tender head,
No more the biting blast they dread
The fluttering birds, on busy wing,
Their untried notes essay to sing;
Nature seems once more alive,
Her torpid charms again revive.
Yet, ah! ye insect tribe, beware!
Nor trust your filmy wings in air;
Nor you, ye flow'rs, emboss'd with gold,
Too far your silken buds unfold,
For Winter smiles but to betray;
It is not Summer's genial ray.
Ye chirping birds to covert fly,
For see, the pattering hail is nigh;
The velvet nest forbear to form,
For Winter's smile portends a storm.
Thus we, in life, too soon believe
False Flattery's charms, which oft deceive:
Youth, unsuspicious, dreads no guile,
But trusts too far the treach'rous smile;
Alluring Hope, with footstep gay,
Dances along the flow'ry way;
Her dazzling mirror cheats the eyes,
But soon the fickle phantom flies,
And in her stead, with limping pace,
Blank Disappointment thrusts her face
Between us and the promised joys,
And every magic tint destroys.
Adversity, with rugged brow,
Comes like a storm of wintry snow;
With chilly hand and freezing breath,
The brightest blossoms nips to death.
But lo! Experience, matron sage,
Whose mien bespeaks maturer age,
Tho' fast the fairy visions glide,
She points where solid pleasures 'bide,
And Hope returns to chear the sight,
But not to urge the headlong flight;
Her steps by sober Reason led,
On Faith's firm rock with caution tread;
To Folly's wiles no more a prey,
The bosom owns Religion's sway;
Then see, th' unclouded prospects rise,
Smooth and serene, like summer skies.
Last updated January 14, 2019