by Elizabeth Bentley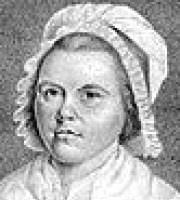 WELCOME thy dawn, protracted day,
With pleasures in thy train;
Whilst thou and twilight share the sway,
Night trembles for her reign.
Rouzed from repose, the sons of toil
Shall early seek the field,
To cultivate the grateful soil,
Which golden crops shall yield.
Their tasks they shall with hope begin,
And chearfully prolong,
Ere Night her ebon face slips in,
To check the busy throng.
Amusement shall their labours crown,
With inoffensive joy;
Nor Evening, with untimely frown,
Their simple sports destroy.
But dusky days, decreased in length,
Too swiftly shall advance,
And sun-beams with remitted strength,
Shall faintly gleam askance.
Yet there's a day 'neath purer skies,
Upon a happier shore,
Awaits the Blest, their sun shall rise,
Whose beams shall set no more.
Rays from th' eternal source of light,
No cloud shall e'er invade;
A morning which the veil of night
Shall never, never shade.
Last updated January 14, 2019