by Elizabeth Bentley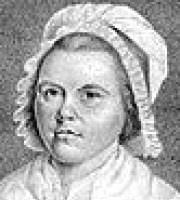 JANUARY 18 , 1816.
BEFORE thine Altar, God of Peace,
Thy grateful people bend:
Thou bid'st again fell carnage cease,
And War's dread empire end.
The Tyrant, whom no leagues could hold,
Whose aim was boundless sway,
By too much lenity made bold,
Burst from his Isle away.
Rush'd like a storm on Gallia's land,
Rebellion's standard bore,
And from her lawful Sov'reign's hand,
The sceptre madly tore.
Britannia's hero Prussia's son,
Came, saw, and fought the foe;
Supported by thy pow'r, they won
The field of WATERLOO.
Once more the false Usurper flies,
His projects lost in air,
His vaunted boast of courage dies,
He yields in base despair.
Ambition, which no limits bore,
Helena's rocks enclose;
Chain'd on her insulated shore,
While Europe feels repose.
Crowns on their rightful Monarchs' brow,
Thine arm has fix'd again;
Nations their lawful rulers know,
And bless their patriot reign.
Guided by Thee, while Britain boasts
To her the change they owe,
Before thine Altar, God of Hosts,
Thy grateful people bow.
And O! may no domestic strife
E'er stain our country's fame;
But let our lips, our heart, our life,
Our joy sincere proclaim.
Last updated January 14, 2019