by Elizabeth Bentley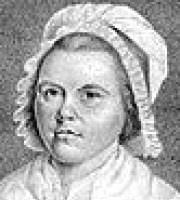 AWAKE! ye sons of sloth and ease,
Can wild and senseless dreams yet please?
Ye oft bewail how short your race,
Yet idly waste its transient space;
Has then the living scene no charm
With nobler joys the breast to warm?
We, the heirs of health and toil,
Dwell in Nature's richest soil;
Profuse with flowers she strews our way,
We live the whole of Life's short day.
When the beams of early dawn,
Impearl with dew the blooming thorn,
The cock, who sounds his clarion high,
Bids our light-wing'd slumbers fly,
When the air is calm and still,
And smoothly glides the circling rill;
When the milk-maid, o'er the lawn,
Inhales the spicy breath of morn,
As blithe with health she trips along,
And sweetly sings her rustic song;
Or bending o'er the foamy pail,
Hears her lover's simple tale.
Loosed from the fold the lambkin plays,
While the sun's up-darting rays,
(As the misty vapour flees)
Tinge with gold the top-most trees.
Alert and gay the plumy throng,
Busy the rustling boughs among;
Swift as the callow nestling cries,
The parent bird its food supplies;
A new-fledged brood their warblings thrill,
And air with magic wild-notes fill
Awake! ye sons of sloth and ease!
The Peasant's Morn has scenes like these;
Heartfelt pleasure would you know,
Haste, your downy beds forego;
Health to her cot your steps shall guide,
On the mountain's lofty side,
Her smiling offspring there you'll find,
Quiet, Content, and Peace of mind;
Far from the dark recess of Care,
Welcome their purest joys to share.
Last updated January 14, 2019