by Elizabeth Bentley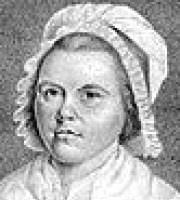 FAR from the busy scenes of life,
Remote from clamourous haunts of strife,
What bliss salutes the mind!
To search the depths of ancient lore,
And Learning's mazy paths explore,
Where Knowledge dwells with Pleasure join'd.
Thro' Poesy's gay walks to rove,
To hear the natives of her grove
Their magic wild-notes sing;
She who conducts o'er fairy ground,
Where Fancy's flow'rets blooming round,
Present the charms of Spring:
To taste the joy those moments yield,
In which we range th' instructive field
Of Hist'ry's ample page;
Who bids Earth's various realms relate,
Their strange stupendous turns of fate,
To teach the rising age.
But when the musing soul surveys,
Those charms the Word of Truth displays,
'Tis transport pure, divine!
Bright Wisdom's voice each page contains,
While Poesy's sublimest strains
Breathe thro' the sacred line.
Last updated January 14, 2019