by Elizabeth Bentley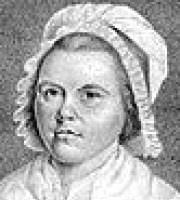 RELIGION! fairest child of Heav'n,
Why art thou drawn with brow austere?
Sweet cherub guide to mortals giv'n,
Why clad in frowns severe?
Thy native mien serenely bright,
True bliss, e'en while on earth we live,
(Thou genuine source of pure delight)
'Tis thine alone to give.
Would man but choose thee for his friend,
Fierce passions' jarring strife should cease,
For all thy paths in pleasures end,
Thy way's eternal peace.
Not the pale Monk, who requiems chants,
Responsive to the midnight ball,
Nor Hermit in his sylvan haunts,
And solitary cell:
But he whose active virtues flow,
Diffusing blessings o'er mankind,
Shall thy sublimest influence know,
Thy heav'nly transports find.
Thine is the generous heart that feels
The sympathies of joy or grief;
And thine the tear that silent steals,
For woe which mocks relief.
The mind with social passions warm,
'Tis thine to soften and refine;
Each life-endearing sacred charm
Of virtuous Friendship's thine.
When Heav'n demands our transient breath,
When every earthly joy shall cease,
Thou shalt disarm the conqu'rer Death,
And wing the soul to peace.
Last updated January 14, 2019