by Elizabeth Bentley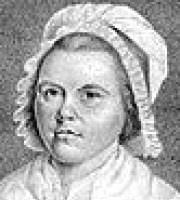 BENEATH a father's roof two brethren dwelt,
And each domestic comfort truly felt;
What farther pleasure could their souls require?
The happy sons of an indulgent sire:
In them were centred all his joys and fears,
The hope and stay of his declining years.
But ah! what human bliss e'er stood secure?
Not long does home-felt happiness endure;
The younger heir, a slave in folly's chains,
His mild, paternal government disdains;
Impatient that an eye should o'er him roll,
Whose awful glance his vices might controul,
Ere yet his father's death a title gives,
He asks his patrimony whilst he lives;
This hard request the parent's breast must wound,
But from his fondness no denial found.
The strong-impassion'd youth, with heart elate,
Receives his portion of his Sire's estate;
In search of lawless pleasures bent to roam,
He quickly bade adieu to friends and home;
With wild excess he on a foreign shore,
In days and nights of riot wastes his store;
He squander'd all, profuse, with lavish hand,
When Famine's meagre form appall'd the land:
By every gay associate soon forgot,
What else but want and misery were his lot?
Behold him now, to earn a scant reward,
The wretched menial of a foreign lord,
Whose galling mandate is, that he must deal,
To herds of greedy swine, their daily meal;
And with their husky food, alas! in vain,
He strives half-famish'd nature to sustain;
No pitying eye beheld his poignant grief,
No friendly hand was stretch'd to his relief:
From stupor rouz'd by hunger's pinching smart,
Remorse with keenest poinard pierc'd his heart.
By wayward passions now no longer blind,
Reason resum'd her empire o'er his mind:
"Why here, self-exiled, stay I thus to moan,
"By gnawing famine wasted to the bone?
"While at my father's board his menial slaves
"Are still supplied with more than nature craves;
"From hence I'll haste, and with prostration low,
"Before my Sire in deep contrition bow;
"And thus confess my faults with conscious shame,
"No more I'm worthy of a son's dear name;
"My humbled heart now thinks it no disgrace,
"Beneath thy roof to crave a servant's place."
Soon on the home-way path the father spies
His long-lost son salute his anxious eyes;
Forgetful of his age, he runs to meet
The penitent, now prostrate at his feet;
And while the meditated prayer yet hung,
With half-form'd accents on his faultering tongue,
He with a parent's tenderness enfolds,
And in his arms with fond embraces holds;
And to his servants this command he gives
"See, my lost son, once dead to me, now lives;
"For this, your lord, the choicest garment bring,
"And on his finger fix th' ennobling ring;
"Kill the fat calf, let festive joys abound,
"Since this my son, long lost, to me is found:"
Quick they obey the walls with mirth resound.
Now from the fields, his daily labours done,
With weary step returns the elder son,
And as he to the happy dome draws near,
Music and revelry astound his ear:
Enquiring of a slave, the cause he knows,
Anger indignant in his bosom glows;
This night I will not be my father's guest,
Nor with my spendthrift brother share the feast.
At this refusal grieved, his tender sire,
With mild entreaties, seeks to calm his ire:
To whom the son replied," O! father, say,
"When did I e'er thy mandates disobey?
"Full many a year has my laborious hand,
"With ready service waited thy command,
"Yet not a kid was e'er to me assign'd,
"An hour of pleasure with my friends to find;
"But soon as this thy fav'rite prest thy floor,
"Who hath in guilt's career consumed thy store,
"With rapture hath thy partial voice decreed,
"For his return the fatted calf shall bleed."
With accent mild the father thus replies
"Son, thy dear presence daily glads mine eyes;
"The comforts of my home, whate'er is mine,
"All I enjoy, all I possess, are thine;
"But since thy brother, long inured to roam,
"Dead to his friends, a stranger to his home,
"Is now restor'd, we ought, with songs of mirth,
"To speak our praise for this his second birth."
So when the penitent, sincere and meek,
Returns his heav'nly father's face to seek,
Joy thro' th' angelic host resounding flies,
And shouts of gladness shake the ambient skies.
Last updated January 14, 2019