by Elizabeth Bentley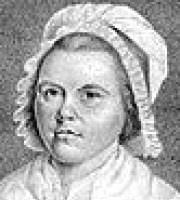 NOW earth's beauteous scenes o'ershading,
Twilight her grey mantle flings;
Now the realms of day invading,
Darkness spreads his ebon wings.
From the distant town returning,
Hasty trips the village maid;
In her hand, obscurely burning,
A taper lends its feeble aid.
Now the church-yard path she enters,
But fain would shun the dreary way;
Dreading, trembling, on she ventures,
Lamenting oft the absent day.
Unperceiv'd a humid vapour,
Exhaling from the fatten'd ground,
Quenches quick her friendly taper,
And pours a tenfold horror round.
Now strange tales of old romances
Swiftly dart across her mind;
On every grave a ghost she fancies,
Hears a groan in every wind.
Now she stops, she starts, she listens,
A look behind she dares not cast;
At her feet the glow-worm glistens,
Round her roars the hollow blast.
Thro' the trees the moon-beams viewing,
That rising shed a dubious light;
On tip-toe now her steps renewing,
Chased by Fear, a paly sprite.
The glimmering lamp at distance spying,
Where her rustic parents dwell;
Now the well-known door descrying,
Scarce alive her fate to tell.
She the dreary scene describing,
Her infant sisters round her gaze;
With eager hearts the tale imbibing,
Till rapt, till lost in wild amaze.
With age their groundless fears increasing,
Dread of darkness fills the breast;
Solitude tho' once most pleasing,
Is now in deadly terrors drest.
Ah! they alone possess a treasure,
Who their Maker's favour prize;
Only dreading his displeasure,
Their souls all other fears despise.
Last updated January 14, 2019