by Elizabeth Bentley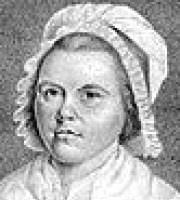 YE sons of men! with reverence bow
Before th' Almighty's throne!
With adoration's hallow'd glow;
His ceaseless goodness own:
Obedient to his dread controul,
Famine, the fiend, with haggard eye,
Whose gorgon aspect petrifies the soul;
Who late with giant pace advancing nigh,
Threatening rear'd her meagre hand,
And frown'd terrific o'er our land,
Now dares no more the conflict wage;
But with unsated rage,
She to the desart takes her flight,
Or seeks the regions of eternal night:
While Heav'n-sent Plenty, with benignant smile,
Her brow triumphant crown'd with waving grain,
Returns to bless her favour'd isle,
Shaking her full horn o'er the plain;
Bids the rich crop o'erspread the cultured soil,
Whose bending ear demands the reaper's toil.
Industry, with cheerful song,
Laughing leads her rustic throng;
Their toil is o'er their treasure safely stor'd,
Pleasure crowns the festive board;
Mirth invites, with aspect gay,
To welcome Plenty's golden sway;
Want is fled and pining Care;
Now the rural sports they share:
But ne'er amid their joys be seen,
Intemperance with disordered mien;
Nor (the bane of social life)
The monster form of furious Strife;
Nor Discontent, with baleful sound,
Spreading her envious murmurs round.
Hark! the high notes of peace and love,
While their guiltless joys they prove,
Are heard th' exulting train among;
To Him, whose pow'r each gift on man bestows,
Grateful the hymn of gladness flows,
From each enraptur'd tongue.
Last updated January 14, 2019