by Elizabeth Bentley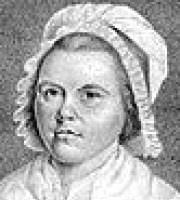 WHEN Spring luxuriant scatters new delights,
The mountain's verdant slope our steps invites,
To crown whose lofty brow o'er-bending trees
Wave their thick foliage in the tepid breeze.
Beneath their shade may Contemplation stray,
Th' extensive scene in all its charms survey;
In all the Maker's wisdom, pow'r confest!
Yon hawthorn rows in vernal beauty drest,
Yon meads, where many a simple wild-flow'r blows,
And ev'ry tint of Nature's pencil glows:
In sportive innocence the fleecy train,
Here leap exulting o'er the grassy plain;
The ox from toil released, the herding kine,
In silence feed, or 'neath the shade recline:
There distant hills, receding from the view,
Seem lost in clouds, or tinged with faintest blue;
The winding stream with ample circuit flows,
And fertile life on plains remote bestows.
Yet dim in perspective we there descry
The stately bark slow rising on the eye;
While here, with heads erect, in snowy pride,
Young swans athwart the chrystal surface glide.
Yon labouring peasant cheerful tills the fields,
For him the teeming earth her bounty yields;
For Man in beauty glows th' empurpled Spring,
For Man her fruits shall generous Autumn bring;
For him yon vessel wafts her golden stores,
And products rich of ev'ry clime explores.
All nature by its gracious Author giv'n
To Man, the earnest of a future Heav'n.
O favour'd mortal! to thy Maker raise
The grateful incense of eternal praise.
Last updated January 14, 2019