by Elizabeth Bentley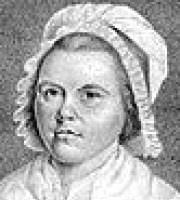 PROSPERITY, with glitt'ring charms,
Invites her vot'ries to her arms,
In Pleasure's silken robes array'd;
Of Folly's cup she bids them drink,
Oft lures them to Destruction's brink,
Her path with flow'rs o'erlaid.
She oft to their deluded eyes,
The mirror of Deceit applies,
Where dazzling worldly Pomp is shown;
They gaze, forgetful whence they are,
'Till caught in proud Ambition's snare,
They Reason's sway disown.
Adversity, with brow austere,
Her looks forbidding and severe,
The friend of mortals in disguise,
Pursues them through each devious way;
On Terror's wings each son of clay
Her dreaded presence flies.
But soon, unable to contend,
Reluctant, to her pow'r they bend,
Her rigid discipline endure;
Taught by her voice themselves to know,
And what to others' bliss they owe,
To make their own secure.
From Falsehood's mist she clears their sight,
Illumes their minds with Virtue's light,
And bids them burst soft Pleasure's bands;
Each Passion feels her just controul,
And Reason's empire o'er the soul
Again securely stands.
Art thou, Prosperity, assign'd
The happy lot of human-kind,
Let Prudence all thy actions guide;
With mild Humility, whose care
Shall bid thy tow'ring steps beware
The precipice of Pride.
Haft thou, Adversity, thy charge
O'er Earth's abodes to rule at large,
Let Fortitude thy reign attend;
Content and Hope be ever near,
And those condemn'd thy wrath to bear
Shall hail thee as their friend.
Last updated January 14, 2019