by Elizabeth Bentley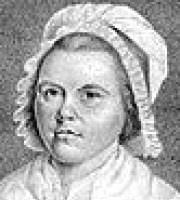 AS thou in Sion praise did'st hear,
O! God, in Britain now,
An altar to thy name we rear,
And pay the grateful vow.
In vain we seize the early hour,
To plough the unyielding soil,
Unless thou send'st the softening show'r,
In vain the sower's toil.
'Tis thou who bid'st the ripening grain
In full fraught ear ascend;
The glossy stems the load sustain,
And 'neath the sickle bend.
Famine, pale fiend, far hence shall fly,
The sons of Want no more
Shall view, with Sorrow's aching eye,
The barn's exhausted store.
An early harvest crowns our hopes,
Thy goodness gives command;
Plenty her horn diffusive opes,
And fills the reaper's hand.
O'er the brown stubble scatter'd thick,
We leave a liberal share;
This shall the humble gleaner pick,
Which amply pays her care.
Abundance clothes the smiling land,
Each heart with joy o'erflows;
O! may we ne'er forget thine hand,
Which ev'ry good bestows.
Last updated January 14, 2019