by John Lars Zwerenz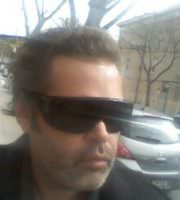 By moss-clad benches, in the autumnal air,
Beneath the swaying myrtle trees,
Soft gales swirl the leaves around our knees,
As they grace with scent your sable hair.
And as we trod upon the wooded lane,
At one with the rising, sallow sun,
Harpsichords play, uniting us as one,
In the lush, sweet song of the misty rain.
And as I lavish upon your russet lips
A buss of passion, laced with thyme,
We compose a flowing sonnet of rhyme.
And the moon, half hidden from our gaze,
Transforms into radiant rays as it dips,
Lauding our love in our boon by the bays.
From:
Poems by John Lars Zwerenz
Last updated February 20, 2015