by John Lars Zwerenz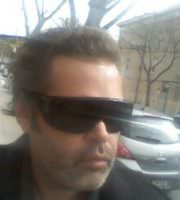 A WALK WITH YOU
In my countless walks I have never seen
A more gilded face than your own- so fair;
The noonday sun pauses to laud your hair,
As my gaze unites with yours- so serene.
The breezes which trail like diamond fountains
Brush your parted mane, as your kisses thrill,
Gracing the courtyard and its every hill.
(Your love does humble the ring of mountains.)
And when the stars alight, sobbing on the streams,
Our past is understood, where the moonlight gleams,
In the solitary wood, in the silent park.
We hold each other's hand in the mist-clad dark,
And walk as angels, beneath the colonnades,
In a rapture of our own, in the scented shades.
JOHN LARS ZWERENZ
From:
Poems by John Lars Zwerenz
Last updated May 23, 2016