by Cotton Mather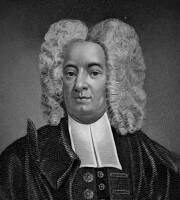 Gods Son Incarnate , now Akin
To miserable me,
From all the Miseries of Sin
Sets me at Libertie.
By His full Price to Justice paid,
my Bonds of Death are Eas'd:
By His Great Pow'r thereon display'd,
Deaths Prisoner is Releas'd.
That the Almighty JESUS is
My own Redeemer now,
By my Consenting to be His ,
On Terms of Grace, I know .
I Know that my Redeemer Lives ;
His Grave detain'd Him not;
Enthron'd, from His High Throne He gives,
What in His Grave He bought.
And now, I know that all He said,
must be for ever True;
His being Risen from the Dead
His glorious Truth doth shew.
I Know , when I or Mine shall Dy ,
We shall to Heaven go;
Since our Fore-runner Lives on High
concern'd for us below.
Last updated April 01, 2023