by Elizabeth Bentley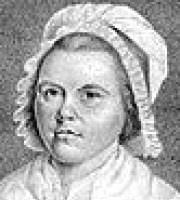 THE sun ascends a cloudless sky,
The moistening dews before him fly;
How sweet to pace the fields at dawn,
This mild, serene, salubrious morn,
Where fluttering oft his russet wings,
Untutor'd notes the Redbreast sings;
Or walking on the rising ground,
To scan the wide-spread landscape round,
Where at one sweeping glance we see,
(Interspers'd with many a tree)
Houses, bridges, hedges, hills,
Castles, turrets, spires, and mills,
Which indistinctly meet the view,
Veil'd in a mist of palest blue.
The reaper with his ruddy train,
Bending o'er the rich-ear'd grain,
With busy hand the sickle plies,
The yellow sheaves around him rise,
While far behind, with slower pace,
His track the patient gleaners trace;
The youths and maids assisting come,
Eager to bring their harvest home.
A scene like this must soothe the mind,
With feelings of the happiest kind;
Grateful to Him the bosom glows,
From whom the stream of plenty flows;
To Him the soul sincere shall raise,
The glad, harmonious song of praise.
Last updated January 14, 2019