by Elizabeth Bentley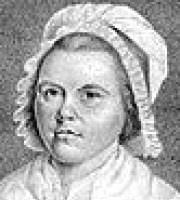 NOW thickening darkness spreads her solemn shade,
What awful sounds the startled ear invade,
Awake the hallow'd silence of the night,
And strike the timid breast with vain affright?
Hark! 'tis from far the whirlwind's bursting rage,
More loud the warring elements engage;
Doubling from every point the tempest roars,
Mingled with hail the watry torrent pours;
The thunder-burdened clouds with fury clash,
And thwart the gloom swift glares the vivid flash.
Are these the ministers of vengeance hurl'd,
By Heav'n's just wrath, to scourge a guilty world?
Or hath (by Wisdom's laws no more confin'd)
Order to mad misrule her sway resign'd?
No! guided by the same all-gracious power,
Who gives th' enlivening beam and vernal shower,
A part of Mercy's yet mysterious plan,
E'en storms, the messengers of good to man,
From noisome vapours free the stagnant air,
And bid the fertile earth rich offerings bear.
Tho' Guilt appall'd shrinks from the solemn scene,
Still Resignation trusts with soul serene,
On him who o'er unnumber'd worlds bear sway,
Whose word conflicting elements obey.
Now the lone traveller, on the deluged plain,
With weary footstep seeks his path in vain;
For him the feeling heart shall breathe a pray'r
Oh! may Compassion's friendly cot be near,
Where, shielded from Death's bolt which o'er him rolls,
He'll bless that God whose will the storm controuls.
Last updated January 14, 2019