by Elizabeth Bentley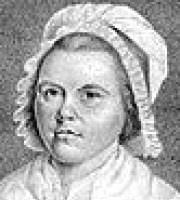 ON Albion's favour'd shores again
What shouts of conquest strike the ear!
Victorious on the watry plain,
Her warlike sons appear.
Let France, in atheist pride array'd,
The pow'rs of earth and heav'n defy;
Britain shall own th' Almighty's aid,
On Him for strength rely.
Rebellion's blinded sons no more
Shall bid their country's savage foe,
Assist them on their native shore
To pour the streams of woe,
No savage foe shall e'er intrude,
Whate'er their vain insulting boast;
A race of heroes, unsubdued,
Still guards Britannia's coast.
While faithful History's glowing hand
Consigns her gallant chiefs to fame,
Conspicuous 'midst the glorious band
Shall shine her NELSON'S name.
And ye, whose husbands, parents, fell,
To save their country, laws, and King,
That country shall your griefs dispel,
Shall grateful off'rings bring.
By Victory led with laurel'd brow,
May Peace to bless our isle descend;
War's crimson torrents cease to flow,
His jarring empire end.
Last updated January 14, 2019