by Elizabeth Bentley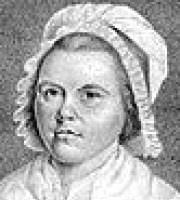 PRIDE's the chief source of every human woe,
To social happiness the greatest foe;
'Mongst various passions which the mind enthrall,
Pride is the least excusable of all.
In what dost thou thy fellow-men excel,
(Whoe'er thou art, vain-glorious mortal, tell)
That thus with arrogance thy mind should swell?
Art thou the offspring of some noble race,
That e'en from monarchs their descent can trace?
Yet stop not here, and room for Pride pretend,
But backward still th' unweary'd search extend;
'Till thou for all one common parent find--
Adam, the great forefather of mankind.
From the same earth all human beings rose,
To the same dust return when life shall close.
The same all-wise Creator gave each soul
It's pow'rs of life, and doth those pow'rs controul.
And at that awful, great, decisive hour,
When vain distinctions shall be known no more;
When virtue only shall regarded be,
The spotless mind grac'd with humility;
Then the poor vassal equally shall shine
With those descended from the noblest line.
Or if thou hast some recent honors gain'd,
Let not thy dignity with Pride be stain'd;
For worldly honor's but a transient joy,
A monarch's frown may all thy hopes destroy;
To-day may view thee tow'ring to the skies,
To-morrow find thee fall'n, no more to rise;
For if to honor's highest pitch thou soar,
Th' exalted height but makes the danger more.
Exult not, though thou India's treasures share,
Think what precarious blessings riches are;
Much wealth, when hoarded up, much care will bring,
From which, dispers'd, might many a blessing spring.
Beauty, which sickness may, and age must fade,
Should that a source of vanity be made?
Or canst thou more than vulgar knowledge boast?
('Tis a mere nothing we can know at most)
Reflect how small the knowledge man can gain,
While wrapp'd in clay his spirit doth remain;
Compar'd with heav'nly beings more refin'd,
Darkness must still pervade the brightest mind:
But when remov'd from this terestrial ball,
All things shall be alike reveal'd to all;
Equal in knowledge as in bliss divine,
Bright truth to every eye shall cloudless shine;
All that our thoughts can fathom here below,
Is ignorance to what we then shall know.
Pride is a passion not for man design'd,
Whose greater ornament's an humble mind.
Behold the man of high, disdainful mien,
With haughty, supercilious brow he's seen;
His ev'ry look his want of sense betrays,
Shews a base mind, and arrogance displays.
Reverse the picture, view the man of sense,
He to distinction makes no vain pretence;
Only too proud to do an act that's base,
He stands an ornament to human race.
Behold the contrast, each vain thought remove,
Copy the portrait thou may'st best approve.
In thy own manners; to whate'er thou'rt born,
An humble mind each station will adorn.
Last updated January 14, 2019