by Elizabeth Bentley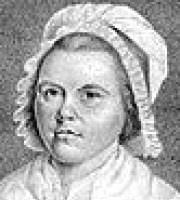 O thou! advance, whose heav'nly light
Can make each scene of sadness please;
On future bliss can fix the sight,
And anguish change to ease.
'Tis thou, sweet Hope, of race divine,
Who bid'st the Poet's thoughts aspire;
Thou breath'st thy influence o'er each line,
And add'st celestial fire.
Thou bid'st his anxious bosom glow,
To climb the steep ascent of fame;
To share that praise the just bestow,
And gain a deathless name.
The Painter, fir'd by thee, can trace
Each genuine beauty Nature gives,
As on the canvas shines each grace,
Renown'd his mem'ry lives.
'Tis thou, sweet Hope, whose magic pow'r
The griefs of absence best can calm;
While Friendship chides each loit'ring hour,
Thou shed'st thy soothing balm.
Thou mak'st the captive's heart rejoice
In gloomy regions of despair;
In thought he hears fair Freedom's voice,
And breathes in purer air.
But oh! when thou forsak'st his breast,
What dismal horrors round him rise!
His mind, with weightier chains opprest,
Deep sunk in sorrow lies.
The sailor on the wat'ry waste,
While boist'rous waves terrific roar,
Thou bid'st ideal pleasure taste,
And tread his native shore.
The wretch whom keen Remorse assails,
Or he who feels Misfortune's dart,
His hapless fate no more bewails,
Such joy thy beams impart.
When Life presents her closing scene,
Thy radiant sunshine chears the soul;
'Tis thou, bright Hope, with smile serene,
Canst Fear's dread hand controul.
No mist obstructs thy piercing sight,
Thou bid'st the mind her greatness know;
Soaring, thou point'st to realms of light,
And scorn'st to rest below.
Last updated January 14, 2019