by John Lars Zwerenz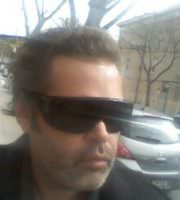 AN AUTUMN EVE
The autumn reeds, sallow and dry,
Blown back by zephyrs, soft and blue,
Scent the brownish leaves, moist with dew,
Gracing your hair, as they sail on by.
And in the crisp, cool mist of the redolent shade
Where your lips are kissed and vows are made,
The lindens above sway with ecstasy,
Shaken from the breezes of the azure sea.
And the statues of the gleaming square,
Glistening by the fountains which softly bestow
A freshet of diamonds in the aromatic air,
Lend a solemnity to our ardor there.
And I shall hold you, as the silver moon does rise,
To the lacrimal hues of the sobbing skies.
John Lars Zwerenz
Last updated September 23, 2015