by John Lars Zwerenz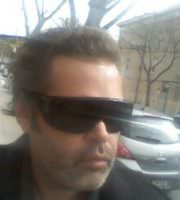 Scarlet breezes swirl through the square,
Beckoning us to come
In bright, Elysian fare.
A cello and a drum,
Clarinets and trumpets
Arise and stir and glitter in the fountain,
Around your sable ringlets,
In the cloister on the mountain.
There are diamond drops of rain
In your long and raven, perfumed mane.
Let us wander to the amorous refrain
Of violins by the ivory colonnade.
And there in the somnolent, redolent shade
I shall take your tender, fair, white hands,
Where only rapturous love commands,
As we rove among the blooms,
In the garden by the ocean,
Reveling in deep emotion
Beneath our gilded palace,
And its grand, palatial rooms.
And I shall kiss your lovely face,
In a state of imperial, gracious grace,
To the chime of harps and wedding strains
Which will emanate from daisies, dahlias and the breeze,
From the chapels by the rustic lanes,
Beneath the golden linden trees.
John Lars Zwerenz
From:
Ecstasy And Other Poems by John Lars Zwerenz
Last updated June 20, 2016