by John Lars Zwerenz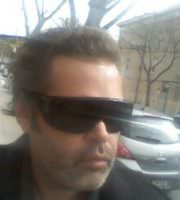 TO YOU, MY LOVE
At night, when I am alone,
Your voice I hear,
Angelic and dear,
Of a heavenly tone.
And when your soft perfume
Wafts in from the sea
Your fragrant gaze of ecstasy
Enters like a psalm into my room.
Through curtains of white,
I behold your face and form,
As billows rise in the starlit storm,
You appear in a ray of glowing light.
And then my hair you caress
As a moonbeam gleams
Through your dress and its ruffled, ivory seams.
To you, my love, I give all that I possess.
And then comes your ardent kiss,
As we wander in the courtyard's shade,
By the alabaster statues, near the oceanic glade -
Enraptured in an eternal bliss.
John Lars Zwerenz
From:
Ecstasy And Other Poems by John Lars Zwerenz
Last updated December 14, 2015