by John Lars Zwerenz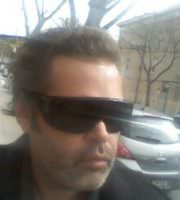 THE MAIDEN WHOM I LOVE
It is not the fair one,
Ophelia, of whom I long to see;
Neither is she found on Juliet's balcony,
Where purples marry with the scarlet sun.
No.
Lo! -
She is in France now, the maiden whom I love.
She hides from the soft gales of the moonlight:
The siroccos which sail in the Carolingian night.
And she gives her hand to the swallow and the dove.
Her gazes are that of statutes grave,
And her manners are that of an angel's ways.
She wanders by the boundless bays,
Graced by every sea borne wave,
Awaiting a sailor from the western sea: -
None other than the likes of me.
John Lars Zwerenz
From:
Ecstasy And Other Poems by John Lars Zwerenz
Last updated November 19, 2015